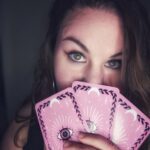 Tarot card reader & professional development trainer. Additionally, I sell worn clothing and digital services online in my free time. Right now, I'm putting together a series of trainings on the topics of business and mental health that I hope will be useful to sex workers in the future. I also do writing, editing, and design services if needed.
100% Secure
Job is done or money back
You pay only the listed price without any hidden costs.
We keep your money until you are happy with the delivered work.
The job will be done or your money will be returned.
I am a graphic design generalist! With your photos, and the basic dimensions of whatever platform you're using, I will work with you to create the perfect image for your business. I love working with SWs of all identities, shapes, sizes, specialties and lifestyles - let me help your story shine!
I typically work with a combination of Pixlr and Canva. I love colorful, sexy, eye-catching designs, and want to incorporate your personality into whatever we end up making. I am comfortable making banners, logos, menus, social media posts, templates, images for websites, Reddit images, book covers, graphics for training programs, webinars - you name it!
Prices tend to vary based on complexity, most start at $25 and go up from there. I am also happy to find a discount for folks who are interested in purchasing multiple graphics in a bundle. Let me know what your needs are!
Report this job
Not logged in
Other jobs by FreyaFernandez