Holistic Wellness Counsel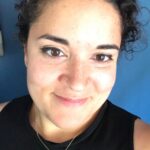 Greetings, Theybies and Gentlethems.
I'm Andi (she/her) your friendly, neighborhood Pansexual Astro-Nerd and "Holistic Wellness Support Witch" (say that five times fast!)
I'm here to offer whole-body support for any and all bodies with a bag of mixed tricks including herbal therapeutics, astrological consultations, lifestyle and mindfulness practices and Flower Essences.
We are more than a scraped knee, UTI or anxiety disorder. Each of us is a materialized echo of the Universe's longing; intricate, unique and very much desired by life. We need all the Light we can get in this world and tending our inner flame requires us to look deeper than symptoms and upsets to the very Core of our Vital Being.
A truly holistic practice, in my mind, means offering complimentary support in harmony with each person's native constitution while nurturing their Highest Self in the process. We are not just soothing heartburn, we are accepting and assimilating the process of Healing in a way that will mature and refine us. This isn't "one size fits all" - this is a highly individualized journey that I would be delighted to join you in for a time.
100% Secure
Job is done or money back
You pay only the listed price without any hidden costs.
We keep your money until you are happy with the delivered work.
The job will be done or your money will be returned.
Greetings, Theybies and Gentlethems;
I am offering hour-long wellness consultations via phone or video chat. I have been a practicing herbalist in the Vitalist Tradition for five years in the Northeastern United States. This offering includes an in-depth intake where I will ask all sorts of questions and then do as much listening as possible. I will take some time (usually 1-3 business days) to sit with the collected information and then create a neatly-typed, comprehensive "suggested protocol" including herbal supports, helpful resources, mindfulness practices, floral essences, lifestyle recommendations, etc. and send it to you. You are then free to contact me with any questions or comments and we will travel on from there! I believe that holistic wellness is a partnership that should leave you feeling heard, seen and HELPED.
Holistic wellness support is absolutely complimentary with all types of conventional healthcare.
Report this job
Not logged in